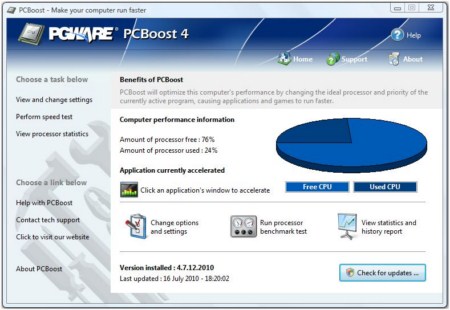 PGWARE PCBoost v.4.10.3 Final (x32/x64/ENG) - Silent Installation | 5MB


PCBoost - an application that allows you to optimize your PC's
performance and make it run faster! PCBoost is a program that allows
you to run programs much faster. PCBoost little or no effort, easy to
program and optimize the game, forcing them to work faster so there is
no need to buy a new computer. Many programs and games often use a
minimal amount of CPU power which often leads to a simple processor.
PCBoost uses this by allocating more CPU power for the currently active
applications and games. All this is done automatically without you.

PCBoost an alternative to buying a new computer, does not harm your
computer, while providing equivalent power, with a computer having a
more powerful processor. PCBoost simple and very easy to use. A few
clicks of the change the settings and the application is ready to work.
PCBoost runs automatically when Windows starts and manages the CPU /
processor in accordance with user preferences.

[b]Some key features:
Optimization of games and applications by increasing the priority of the active application.
Automatically allocates priorities when a new application is selected.
Works in the background, constantly monitoring the optimization increases the priority within reasonable limits,
maintain system stability.
Visual representation in system tray displays a priority for the active application.
Built-in block list of applications that are not compatible, to prevent problems with the software.
Easy and intuitive user interface which performs CPU tuning in real time.
OS: Windows
Language: ENG
Down Load Links:
http://www.filesonic.com/file/2358071931/PCBoost_.rar

http://www.wupload.com/file/318627129/PCBoost_.rar


Similar topics
---
Permissions in this forum:
You
cannot
reply to topics in this forum